Newark Farm Trail
Detailed information on the points illustrated on the farm trail map.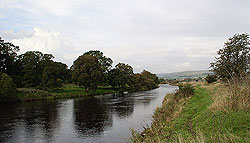 River Nith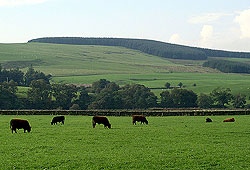 Cattle in open pasture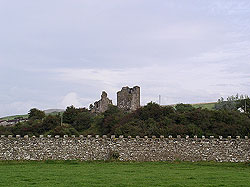 Sanquhar Castle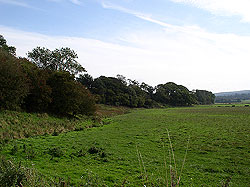 Species rich grass & woodland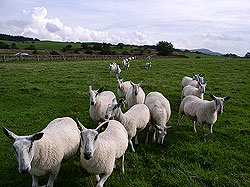 Take Care
Ewes will have lambs in spring
5. River Nith
This river is important for salmon and trout and is popular with fishermen. Salmon return to their river of birth in the autumn to spawn. They lay thousands of eggs, in a gravel "nest" called a redd, then most of the adult fish die. Salmon "fry" hatch out and remain in the river for the first few years, before making the trip out to the North Sea.
6. Open pasture
Much of the land on Newark is open improved grassland. This will have fertiliser and manure applied, to add nutrients to the soil, to ensure good grass growth each year. Cattle and sheep graze the farm. These graze in different ways: cattle wrap their tongues around grass pulling it out and can eat tougher, longer grass, whereas sheep have small mouths and nibble grass, they are also more selective feeders.
7. Sanquhar Castle
This was built by the Crichton family circa 1400. They chose a strong location, with ground falling steeply to the River Nith to the west and Townfoot Burn to the north. The natural defences were supplemented by a ditch cut around the site. Mary Queen of Scots took refuge in the castle.
8. Species-rich grass & woodland
Unimproved, species-rich grassland has no fertiliser or manure applied, to keep nutrient levels low, because wildflowers require low nutrient levels to survive. Insects, butterflies and small mammals will thrive in this habitat.
9. Take care
Take care walking along the roadside verge, as cars are moving fast. The small paddocks to the left as you come in the farm drive will have ewes with lambs in spring.
« Back to map | First 4 points »